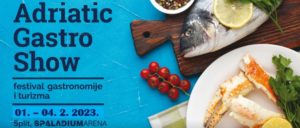 Come visit us at Adriatic Gastro Show
from the 01st to the 04th February 2023!
Looking forward to meeting you at Grand floor/Stand 14.
You can have the opportunity to see live our machines, that help gelato makers and pastry chefs from all over the world!
You can get to know our new brands:
STAF59: gelato machines
ROBOcream: multifunction machines.
WE ARE WAITING FOR YOU!