The list of great guests at Sigep 2018 in Rimini continues with the famous Pastry Chef Cristian Ciacci who, together with his daughter Camilla, has contributed to increasing the number of visits by sector operators at Staff Ice System stand with a formative and interesting show cooking, especially for those who love gourmet ice cream preparations.
Here is a brief presentation:
In the foreground Multifunction Robotcream RT51 that, with minimum bulk, allows you to create your own recipes paying attention to detail and ensuring high quality even in small quantities.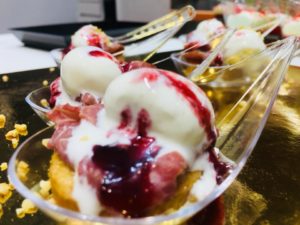 The recipe proposed by the Piedmontese pastry chef has been meticulously commented and detailed step by step to the many visitors present to admire its culinary delicacies, here is a brief summary: "We will prepare crostini with hazelnut butter, smoked beef, mascarpone ice cream and robiola with a strawberry sauce with barbera. The hazelnut butter is a processing of butter, the latter is slowly cooked with hazelnut and when the proteins fats separate from milk, the latter tend to caramelize and become hazelnut, also taking the taste ".